Mumpung sedang jet lag sementara kunyil dan bapaknya masih pulas tidur, mari kita cerita-cerita aja di sini.
So, yeah.. I am back in Sweden. Not alone (Thank God), yet somewhat mellow.
Gue kira, karena ini kali kedua gue meninggalkan Indonesia prosesnya akan lebih mudah. Toh tempat yang akan gue datangi bukanlah tempat baru, malah sempat gue kangeni juga sebelumnya. Orang-orang yang akan menyambut kami juga bukanlah orang asing.
Tapi ternyata gue salah.
Meninggalkan keluarga itu ga pernah menjadi proses yang mudah. All the emotions yang disimpan rapat-rapat selama beberapa hari sebelum hari H keberangkatan, tumpah semua ketika gue musti masuk ke ruang check in bandara. Begitu gue sampai di Copenhagen juga gue ditelengkupi oleh sebuah perasaan aneh. Everything is familiar yet not familiar. The air, the places, the trains, semua kayaknya kenal tapi kok ya berasa beda. Sesampainya di apartemen gue pun gue masih seperti berada di dunia lain. It's home. I FEEL like I'm home. But still not like home? Hiiish ribet yaaa?? Hahaha..
Haaaaah.. Entahlah.
Mungkin gue masih belum bisa move-on dari euphoria kondisi di Indonesia, dimana rumah ortu selalu rame orang. Mungkin juga gue masih belum bisa menerima kenyataan kalau gue sekarang musti balik ngurusin rumah sendiri (halo kamar mandi yang musti digosek dan dapur yang harus dirapihin). Ngurusin Jo berduaan Bubu aja, tanpa bantuan siap siaga 24 jam yang biasanya gue terima selama di rumah ortu.
But then again… This place is home. May not feel like it yet, but I know it will be (again). Just need to move on from the vacation mode, with some shopping theraphy maybe? (Oooh.. Väla sounds like a good idea).
One thing for sure, dimana gue merasa bersyukur banget, adalah kondisi Jo yang masih cukup kecil sehingga dia ga ngerti kalau sekarang udah jauh dari Mama Uti dan tante Ca' nya. Pas kami masuk ruang check in untuk menuju ke bagian imigrasi di bandara Soeta, Jo sempet teriak manggil-manggil nenek dan tantenya sih (waktu dadah-dadah). Tapi alhamdulillah ga sampe ada drama nangis jerit. Kayaknya dia cuma bingung Eyang Uti, Tatung sama Ca'nya kok ga ikut. Cuma sekarang kalau liat gue main hape, dia langsung nyamperin dan bilang "Mama?", "Caca?" sambil minta nyalain line. InsyaAllah Jo bisa main bareng sama Mama Uti, Tatung dan Ca sebentar lagi yaaa. Aamiiin..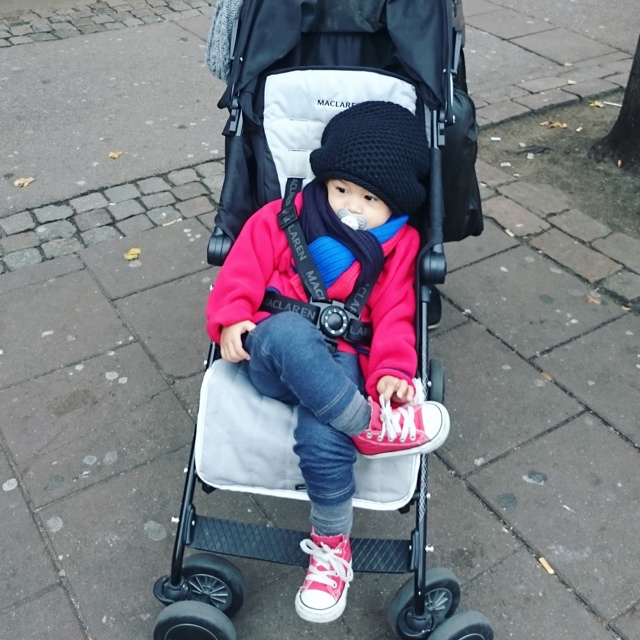 Welcome home anak sayang
————-
*äntligen, hemma? – finally, home?