#SPAZZINGPOST
Semenjak KDrama Descendants of the Sun yang kayaknya bikin heboh sejagad KDramaland berakhir, gue belum ketemu lagi drama yang menarik perhatian gue untuk ditonton. Walaupun stok KDrama itu rasanya ga ada abisnya, tapi rasanya ya males aja gitu untuk memilih satu dan mulai nonton lagi. Apalagi pas banget gue sedang hamil tua dan setelahnya melahirkan Baby E. Makin hilanglah keinginan dan kesempatan untuk menikmati drama-drama Korea.
Sampai suatu ketika, gue melihat sebuah meme yang dibuat oleh biang KDrama (siapa lagi kalau bukan mba Erry) di IG.
DAN AKU PUN JADI PENASARAN…
Langsung saat itu juga gue cari sinopsis plotnya dan jujur aja sih awalnya agak kurang meyakinkan yaaa.. Abis isinya begini doang…
"A romance takes place between Kang Chul (Lee Jong-Suk), who is super rich and exist in the webtoon "W," and Oh Yeon-Joo (Han Hyo-Joo) who is a surgeon in the real world."
Agak ga greget gimana gitu kaaaaan??
Tapi kadung udah penasaran banget, akhirnya drama W tetap gue tonton juga..
AND IT'S MINDBLOWINGLY GOOOOOD!!
Dari para karakternya yang ga typical KDrama, jalan ceritanya yang penuh kejutan sampai special effectnya semua keren banget laaaah. Saking banyak twist and turnnya, tiap minggu gue selalu memulai ritual nonton W dengan streaming online dan lanjut baca recaps + komen-komen sesama penonton W di website Dramabeans supaya bisa ngikutin logika yang dipaparkan di W. Karena ya itu tadi, berhubung ceritanya ga biasa (penuh dengan peraturan dan variable), jadi ga bisa dipakai logika KDrama yang biasa juga.

from manhwa to real world.. ilustrasinya asli cakep bangeeeet… pingin deh beneran baca komiknya kalo ada.. – pic owned by MBC
MY FAVORITE PARTS OF THE SHOW… have to be… the two main characters. Kedua karakter utamanya, Kang Chul dan Oh Yeon-Joo sejauh ini adalah karakter KDrama yang paling gue suka. Terutama Oh Yeon-Joo si heroine cerita ini. She's smart, resourceful, pro-active. Pokoknya ga menye-menye nunggu sang pangeran berkuda datang. Malah dia yang nyamperin pangerannya. Even save him (numerous times) in the process.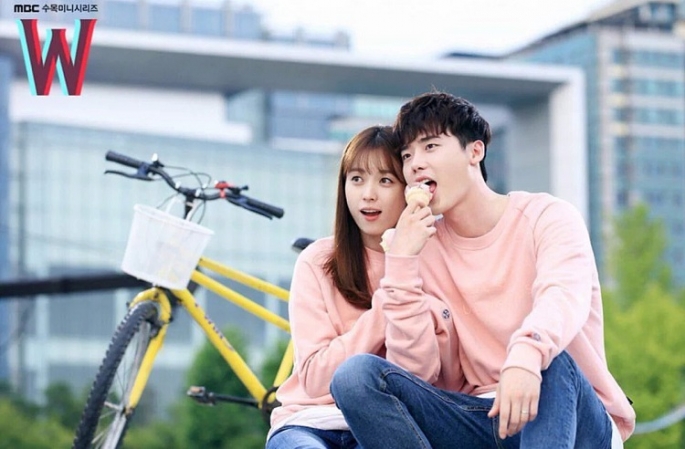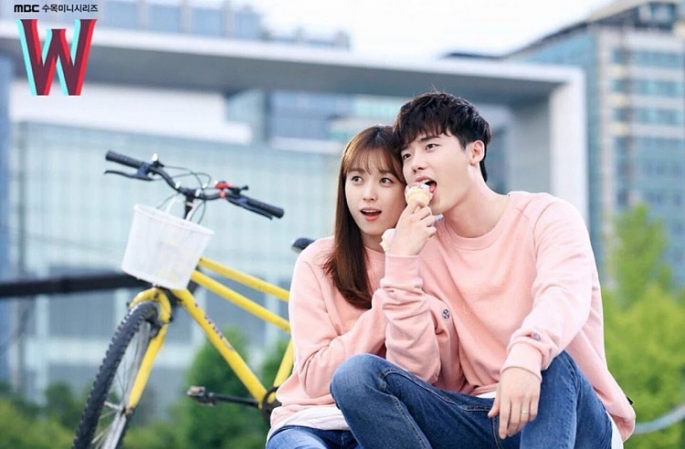 Kalian berdua terlalu gemesin deeeh – pic owned by MBC
Hari Rabu minggu depan, drama ini akan berakhir. Dan gue merasa senang dan sedih secara bersamaan. Seneng karena akan tau endingnya seperti apa untuk para karakternya dan sedih karena setelah ini gue ga bisa lagi ngeliat interaksi antara Kang Chul & Yeon-Joo. Belum lagi kangen sama kelakuan Suu Bong dan Crazy Dog yang selalu sukses bikin ketawa.
Haaaaah… Mungkin sekarang saatnya ngeracunin suami supaya mau nonton W juga supaya ada temen nonton ulang.. hihihi
Ada yang nungguin episode terakhirnya W juga??