Rasanya udah lama banget gue ga menjajal resep-resep baru untuk masuk ke recipe list Cooking Diary di blog ini. Maklum, selama liburan ke Indonesia kemarin dapurnya Bebe tutup total alias nyaris ga pernah masak-masak lagi (mumpung bisa beli, kenapa harus masak toh? LOL). Begitu sampai Swedia pun keinginan untuk nyari resep baru belum muncul juga. Masih belum move-on dari euphoria pulkam ceritanya. Cuma karena makin hari makin bosen makannya itu lagi, itu lagi, gue akhirnya memutuskan untuk mencari resep baru untuk dicoba.
Untunglah ketika pulkam kemarin gue sempat ketemu sama salah satu sepupu gue yang sekarang tinggal di Australia, yang kebetulan pas lagi liburan juga ke Bekasi. Pas lagi ngobrol-ngobrol, tiba-tiba topiknya berubah jadi soal masak memasak dan pada akhirnya ia membagi salah satu resep andalannya, yaitu Beef Stroganoff. Berhubung bahan-bahan yang dibutuhkan ada beberapa yang ga tersedia di rumah, gue pun dengan terpaksa harus menggunakan bahan lain yang kira-kira mirip. Dan setelah gue coba, ternyata emang enak kakak!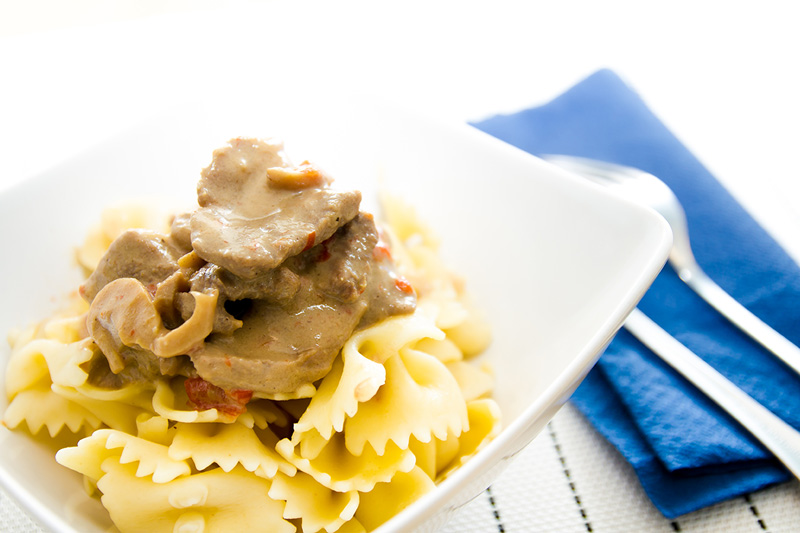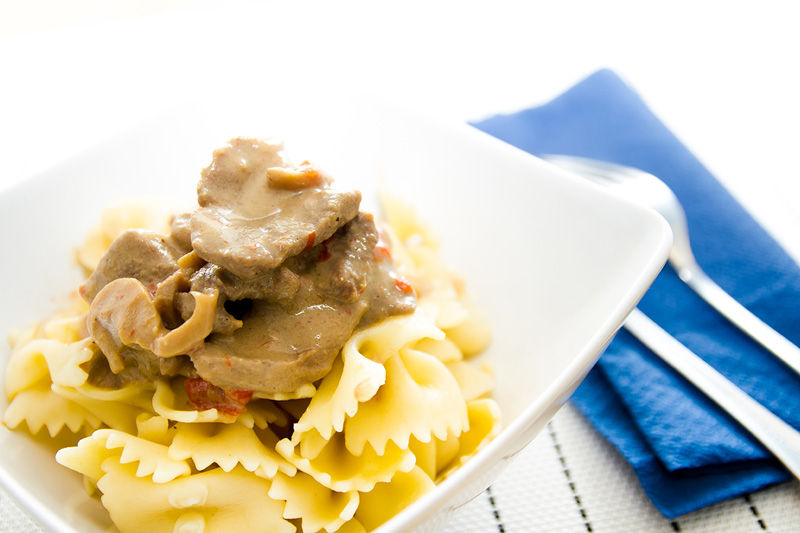 Bahan-bahannya:
1 kg daging sapi (kalau yang punya resep asli pakai bagian Sirloin, gue cukup daging sapi biasa yang di Swedia disebut Grytbittar). Iris tipis.
1 buah bawang bombay – iris tipis.
Jamur kancing secukupnya – potong tipis (kalau gue kemarin pakai jamur kalengan 200g).
100 ml creme fraiche (resep aslinya pakai sour cream, tapi kemarin diganti creme fraiche karena adanya itu doang di rumah).
1 buah paprika, potong kecil.
1 sdm Kikkoman soy sauce.
700 ml kaldu sapi.
1 sdt tepung maizena, larutkan dengan air.
1 pak (500 g) pasta.
Caranya:
Panaskan wajan dan sedikit minyak. Jika menggunakan jamur segar, tumis jamur sampai layu lalu sisihkan. Jika pakai jamur kalengan, langkah pertama ini bisa diskip.
Tumis bawang bombay sampai layu, masukkan irisan daging dan paprika. Tumis sampai daging berubah warna.
Tambah setengah kaldu sapi dan soy sauce. Bumbui dengan garam dan merica.
Biarkan mendidih sampai daging empuk (I used high heat and let it simmered for 20-30 mins) sambil terus ditambahkan sisa air kaldu (jangan sampai kering).
Masak pasta sesuai petunjuk di kemasan.
Masukkan jamur yang sudah ditumis sebelumnya (or in my case, jamur kalengan) ke dalam campuran daging.
Tambah creme fraiche (atau kalau ikut resep asli, sour cream) dan aduk perlahan.
Masukkan larutan maizena sampai kuahnya mengental.
Sajikan dengan pasta.
Definitely, one of those recipes that I would make over and over again in the future.