Sebenernya post ini pernah di publish sebelum tiba2 kepinginan ganti domain, tapi pas data backup-nya mau di upload di wordpress ternyata ga bisa karena size datanya kebesaran 0,66kb (⌣́_⌣̀)\('́⌣'̀ ).. Tapi karena aku suka banget sama postingan itu akhirnya aku mau tulis ulang. Isi aslinya sih ga inget2 banget, cuma intinya masih nyangkut dikepala, mungkin karena postingnya tentang min älskling* Bubu.. ( ◦˘ з(◦'ںˉ◦).. So here we go..
* * * *
Ga sekali dua kali bubu bikin kejutan buat aku. Kejutan dia pertama kali (dan sukses berat) adalah waktu dia ke Jakarta buat nikah Oktober 2010 kemarin, pas kita lagi sibuk2nya mondar mandir sana sini ngurusin acara nikahan tiba2 dia ngasih sebuah kotak kecil yang isinya ipod touch terbaru (versi 4) yang dia beli waktu transit di singapore otw ke Jakarta. Aku yakin banget waktu dia ngasih bungkusan itu mukaku plengo sebloon2nya.. Pasti kayak gini –> (꒪⌓꒪)..
Kejutan selanjutnya ga berhasil2 banget sih tapi ga kalah spesialnya, yaitu pas dia tiba2 bawa pulang kamera DSLR pertamaku.. Itu juga sama reaksinya… (◎_◎;) <- begitu juga pasti..
Kejutan lainnya waktu dia tiba2 beliin parfum gara2 aku sering keluar masuk ke toko parfum tapi males beli karena harganya jauh lebih mahal daripada di Jakarta.. Ternyata dia diem2 nyatet nama mereknya trus nyari online dan tiba2 aja suatu hari pulang kantor dia bawa kotak yang isinya parfum tersebut.
Tapi kejutan yang paling berkesan dari semuanya adalah waktu kita di Berlin, pas masuk kamar hotel tiba2 dia sibuk sama ipodnya. Ga lama sayup2 terdengar soundtrack film Top Gun-nya Tom Cruise (Take My Breath Away dan bandnya bernama "Berlin" :p ).. Trus dia tiba2 berlutut dan… jeng jeng…. He proposed me aja getooo.. Huaaaaa… Asli speechless.. Rada telat sih ngelamarnya, cuma karena masalah jarak dll dll, dulu dia ga pernah secara official ngelamar gt lah. Akhirnya dia lakuin kemarin di Berlin.. Hasil dari kejutan dia kali itu udah bukan muka plengo lagi, tapi malah sukses nangis.. Hiks hiks.. Aku terharuuuu…
Memang kesannya jadi aku yang matre ya dapet perhatian yang sifatnya benda terus, tapi bagi dia kesempatan ngeliat aku bereaksi (꒪⌓꒪) itulah yang dicari.. Semakin aku plengo semakin dia ngerasa seneng karena berhasil bikin aku terkaget2.. Dan jangan salah perhatian si bubu ga berenti sampai disana. Semenjak pindah ke Swedia bisa dibilang aku melepas semuanya dan harus mulai lagi dari nol. Supaya aku ga sedih terus pingin pulang dia bikin aku sibuk dengan berbagai hal, salah satunya ya fotografi itu. Dukungan dia ga cuma sebatas beliin kamera, tapi dorongan moral ga pernah berenti2 dia kasih. Kata2 penyemangat selalu keluar dari mulutnya.. "you can do it!" atau "dont worry, you got the passion, that means you're half way there" adalah beberapa kalimat penyejukku kalau lagi down. Wait.. wait… belum selesai.. Dia juga rajin liat komunitas fotografi di swedia, ngasih kabar kalau ada lowongan pekerjaan sebagai asisten fotografer (situsnya pakai bhs swedia jadi dia yang lebih gampang bacanya), sampai minta tolong temannya untuk buatin website photo portfolio buatku.
Tapi segala perhatian dari bubu kadang suka bikin aku merasa tertekan juga sih.. Bingung mau ngebalasnya seperti apa. Kayak kemarin ulang tahun aja, pas ditanya mau apa dia malah jawab "shaving cream and a deodorant!". Hadeuuuh… Ujung2nya malah ga ngasih apa2.. (-̩̩̩-̩̩̩-̩̩̩-̩̩̩-̩̩̩___-̩̩̩-̩̩̩-̩̩̩-̩̩̩-̩̩̩) . Sempet curhat sama si bubu tentang perasaan tertekan dengan segala perhatiannya dia dan gimana aku ngerasa ga bisa bales dengan tingkat perhatian yg sama, dia cuma jawab "dont worry about those kinda stuff..if you're happy then that's enough for me" huaaa mau berkata apalagi gw?? Hiks hiks
Sekarang cuma bisa ngucapin Alhamdulillah berkali2 dan setiap hari karena Allah SWT udah ngasih aku suami yang baik banget.. Still thinking on what should I do to at least pay back his attention a lil bit. Masih belum ada ide jelas tapi Insya Allah pasti nemuin cara nantinya…
Doakan saya ya teman2… *benteng takeshi style*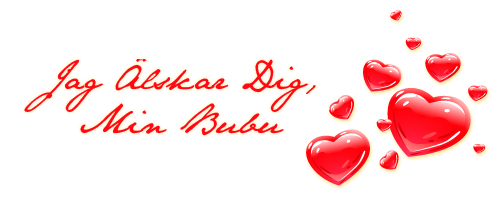 PS: min älskling = my love/my darling