Note: First post for BEC  :blush2:
When you read this blog, a fashion blogger probably would be the last thing you would ever consider to identify me with. And it's a solid statement, since there's almost nothing fashionable here that can act as an argument. So if I have to talk about fashion.. well you guys are screwed *LOL*. With that being said, I have to admit that fashion is not my thing. I got confused by the trend and mix matching.. well let's just say that for me it's as complicated as a math problem. And I'm really bad at math.
But hey, let's talk about it anyway. So.. my style of fashion, I probably would say "Comfortably Casual". An over-sized sweater with a pair of jeans and boots (or sneakers) would be the common choice, if not always. Oh, I also prefer an outfit that makes me look young but still somewhat age appropriate. I mean, yes of course I want to look like forever 21 gituh. But there's also a chance I might end up looking like a 14 years old instead of 31. Which of course sometimes it may be good, if I want to be consider as an under-aged kid with a baby, but otherwise it's just not the look that I'm aiming for.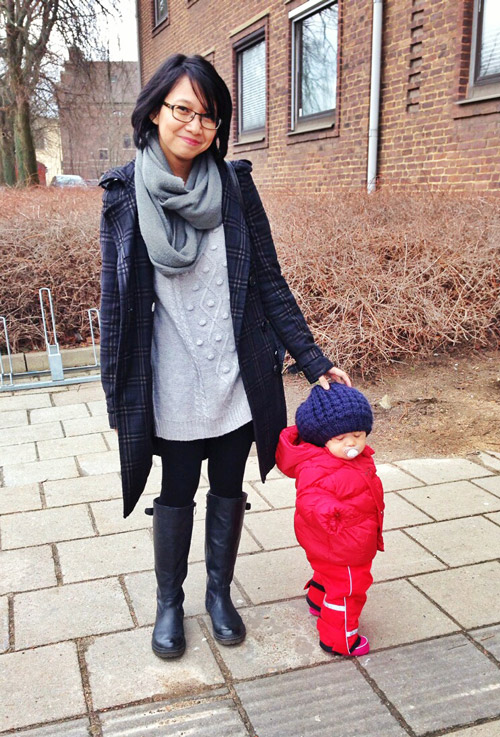 My OOTD – over-sized sweater & leggings by H&M kids, secondhand knee high boots by Tamaris, "Sherlock coat" by Topshop, scarf by Cotton On.

This ootd picture is a perfect example of the outfit I love to wear when I go out. I love this look because it's seriously comfortable. The layering gives me more options depending on how the weather that day. If it's cold then the coat is on. If it's getting warmer then sweater is enough. It also shows more versatility with the sweater casual look and the coat adding a more mature feel to it. So yeah, this look is one of my favorites.
Back to the topic of the unfashionable me, being a woman (almost write a "girl" but then I realized that I'm too old to be called that.. *sadar diri banget*) sometimes I DO want to dress up like a fashion blogger. Well maybe not wearing the latest trends straight from the runway of New York Fashion Week (ok, I watched too much Project Runway), but at least not that far off from the cooly dressed woman walking next to me on the street. But then again since mix matching isn't really my forte, I cheat my way out by lurking on Pinterest, the ultimate source of anything cool and awesome, for some burst of inspiration. I only need to put a keyword based on the thing that I own, a pair of cream colored boots for example, and in no time I have tons and tons of different combination that I can choose from. Easy! Yeah Ok, it's easy when you have all the items inside your closet, but when you don't (which pretty much the usual scenario for me), scratching ground a.k.a garuk-garuk tanah would be the second best option. Haha  😀
In the end, I guess becoming a fashion blogger is a far-fetched dream for Bebe *sigh*. It probably best for everyone if I just continue focusing on writing about Kdrama + KPop and spazzing over all of those cute male lead instead. Who's with me?  :thinking: